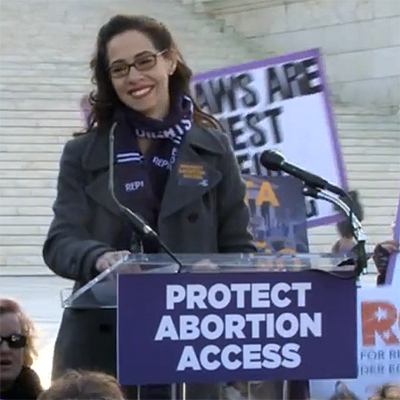 Michelle Kinsey Bruns
Michelle Kinsey Bruns is an advocate for safety and privacy of abortion clinic patients and staff. She has served as a clinic defender, escort, organizer, or observer at anti-choice protests in nine states. A social media user since receiving her sixdegrees.com invitation in 1998, and a coder and writer for the web since before the invention of the word "blog," she has never stopped believing in the power of the internet to change the world.
When not behind a keyboard or in front of a clinic, Michelle is most likely splashing through a creek with her Siberian huskies, making a tasty mess in her kitchen, or planning a road trip.
Read more about some of her recent work at the links below.
"A Compendium of Resistance: Comics for Choice Fights for Reproductive Justice," Women Write About Comics, February 6, 2018
"Return To Wichita: 25 Years After The Summer Of Mercy, The Rescue Movement Plots Its Next Steps," Right Wing Watch, October 2016
"More And More Women Are Unwilling To Accept Shame For Their Abortions," ThinkProgress, February 24, 2016
"Abortion Providers and Escorts to Join Rep. Donna F. Edwards and Reproductive Rights Leaders to Urge House Select Investigative Panel to Focus on Anti-Abortion Violence, or to Disband," PR Newswire, January 19, 2016
"Why One Woman Is An Abortion Clinic Patient Escort," The Alan Colmes Show on Fox News Radio, December 16, 2015
"After Tweeting about 100 Anti-Abortion Attacks, Here's What One Clinic Escort Hopes Will Change," Upworthy, December 1, 2015
"40 Years of Attacks on Abortion Clinics, Mapped," Vox, December 1, 2015
"#is100enough: How Many Antichoice Attacks, Threats & Incitements Until You Admit Clinic Violence Is Real?," Storify, November 29, 2015
"Board of Health Votes To Rescind Hospital Building Standards for Abortion Clinics," Richmond Times-Dispatch, September 17, 2015
"Postcards from the Vag: A Frank & Funny Storytelling Show About Abortion," Black Cat DC, August 28, 2015
"My Abortion Wasn't Tragedy, Trauma, or Pain," America Tonight on Al Jazeera America, December 1, 2014
"#exposePP Turned on Its Head to Expose Support for Planned Parenthood," RH Reality Check, June 5, 2013
"Facebook Promises To Stop Treating Photos Of Breast Cancer Scars Like Pornography," ThinkProgress, June 12, 2013
"Pro-choice on Amtrak: The Time I Told a Group of Anti-Choice Teenagers about My Abortion," Feministing, January 29, 2013
"Summer of Mercy/Summer of Choice Protesters Dig in Outside Carhart's Md. Clinic," Washington Independent, August 8, 2011
Photo Credits: Profile photo at the Rally to Protect Abortion Access at the U.S. Supreme Court, March 2, 2016, by the Center for Reproductive Rights. Background photo at Summer Celebration of Choice at Germantown (Maryland) Reproductive Health, July 31, 2011, by the Washington Post.